Hi all!
This weekend I picked up exactly the kind of guitar I'm always on the lookout for: vintage without collector appeal. In this case, it was a 1965 340/12 that has been refinished and slightly modified. (I'm especially obsessed with X-braced Ricks -- I LOVE the way they sound and play, so definitely worth seeking out!) The seller wasn't entirely sure what the history on the guitar was, since he hadn't done the refinishing himself, but the price was good enough that I felt pretty confident taking a risk. All he knew what that at some point it had a humbucker in the middle position, but that the rout was filled and the guitar was refinished in black nitro by The Guitar Clinic in Hamilton, Ontario. It had a homebrew gold plexiglass TRC and pickguards, but the originals were in the case.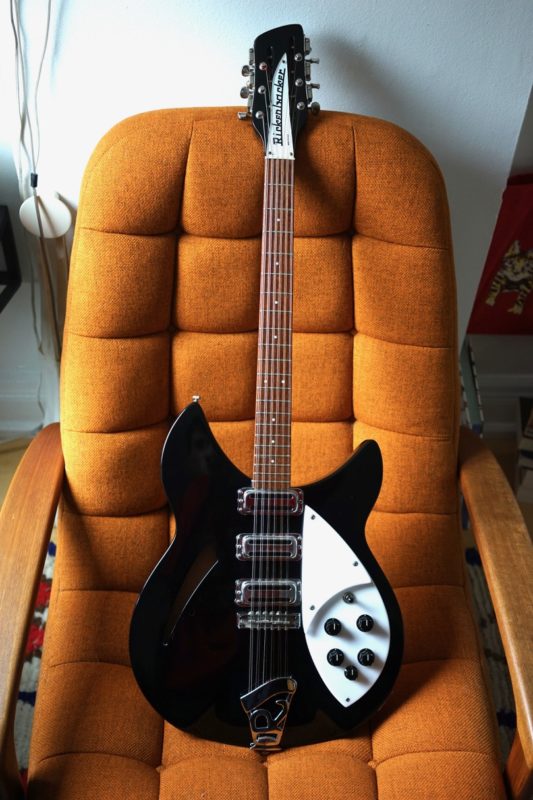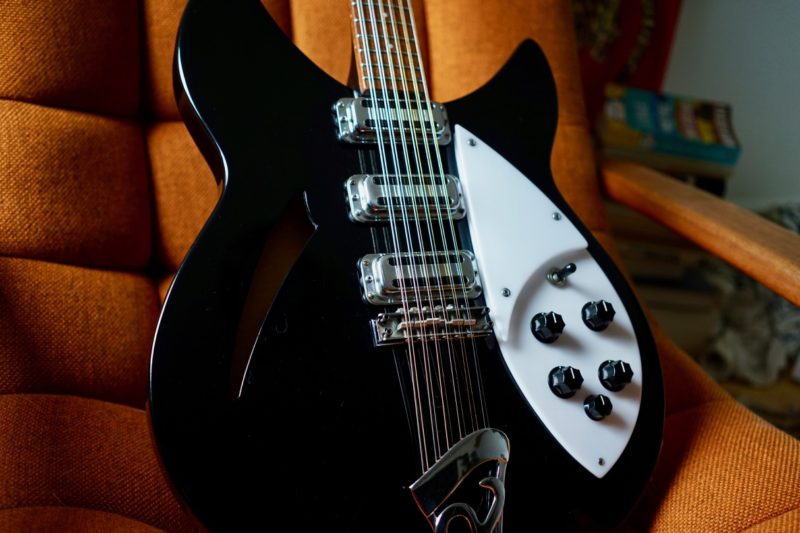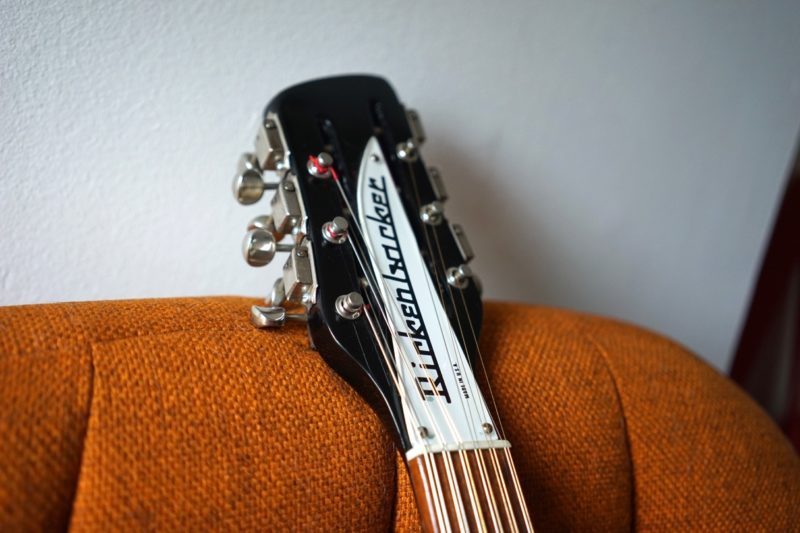 I took it all apart this morning and now have a better idea what I've got my hands on.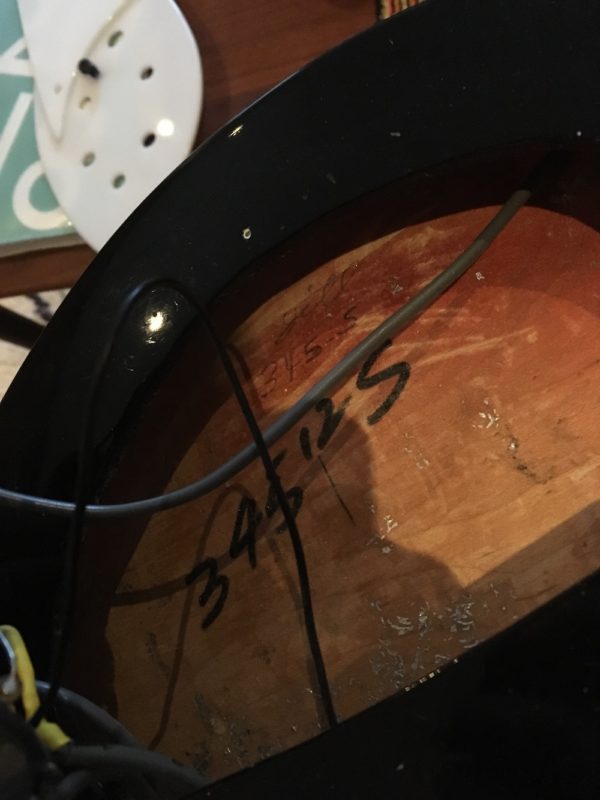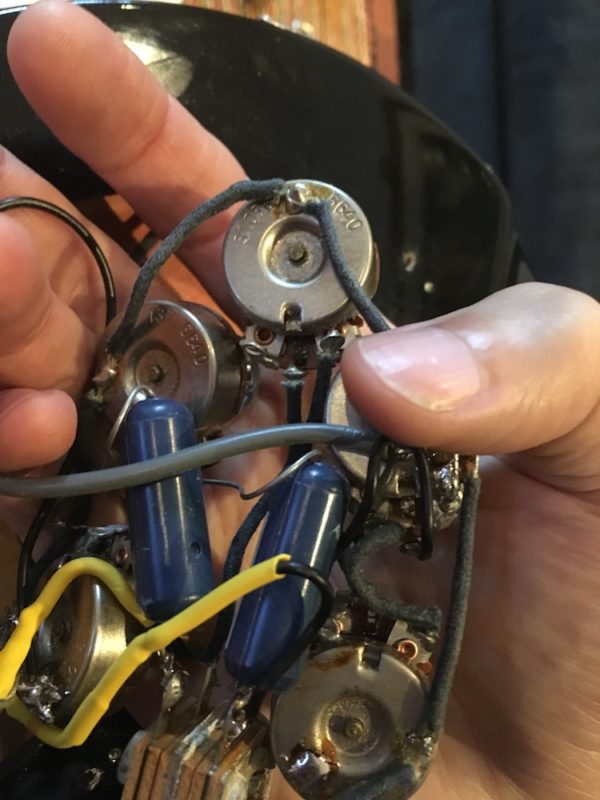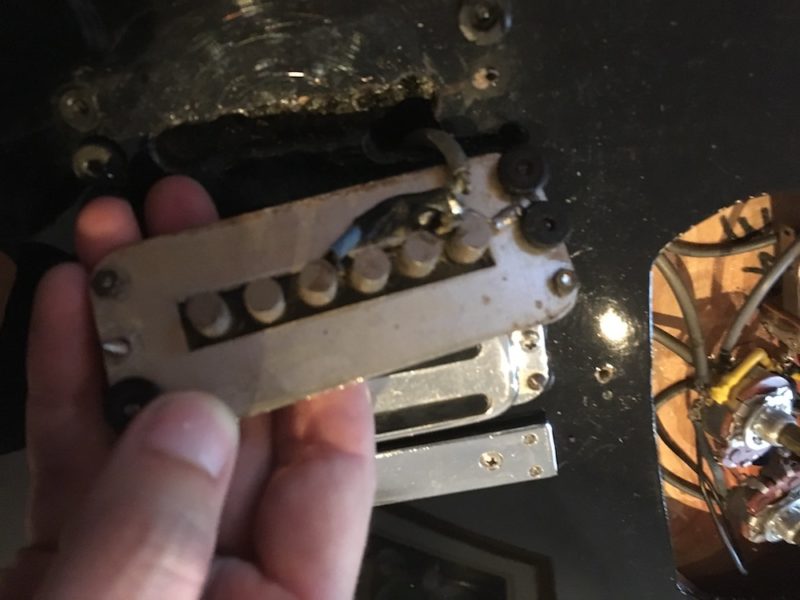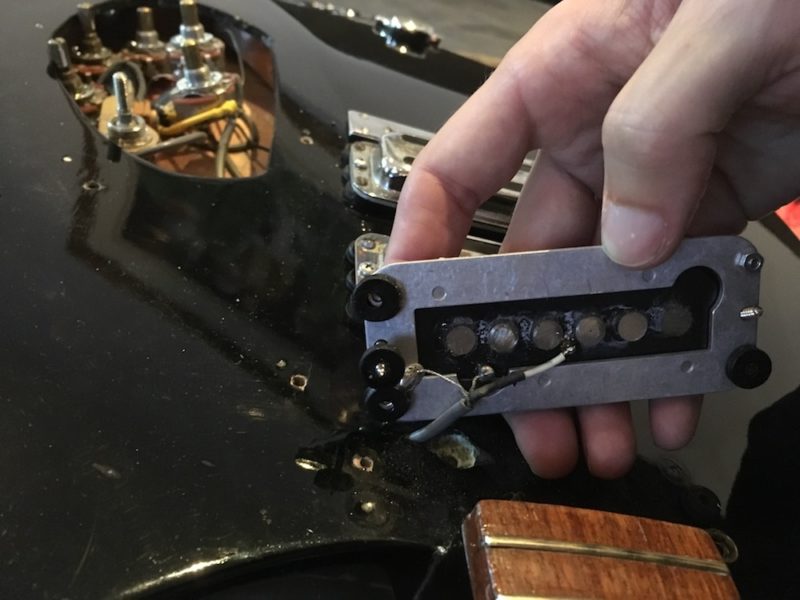 It looks like it started life as a Fireglo 345/12. Somewhere along the line it lost its original vibrato tailpiece (that shiny R looks fairly new) — but most of the parts seem original. The bridge and middle pickup seem original (both long-pole), though the neck pickup looks like a recent reissue that's had its pole pieces ground down (my 1966 345/6 has short poles in the middle and neck -- didn't know there was a short/long/long configuration?). The output jack code dates the guitar to February 1965, though the pot codes are all 1966, if I'm reading them correctly. So either this guitar sat around half-completed for a year, or the person who rewired the guitar at the time of the refinish tried to use roughly period-correct pots. (Or maybe it's a '66 with a '65 output jack? Or... the possibilities are endless.) I'm not sure if the knobs are original: they look old, but they don't look like I expect 60s Rick knobs to look like.
Any insight anyone can provide on any of this, or anything you can glean from these photos, would be much appreciated.
One thing I can say for sure: this guitar plays AMAZINGLY well, with very low action and the 12-string tone I've always dreamed of. Doesn't hurt that I found a set of 10-44 Thomastik flatwotunds in the case either. (By the way, the case is a silver 60s-style reissue). For about the price of a new 330-12, I couldn't be happier.
While I'm at it, I thought I'd post photos of my OTHER '60s Rick. This one is a real mutt.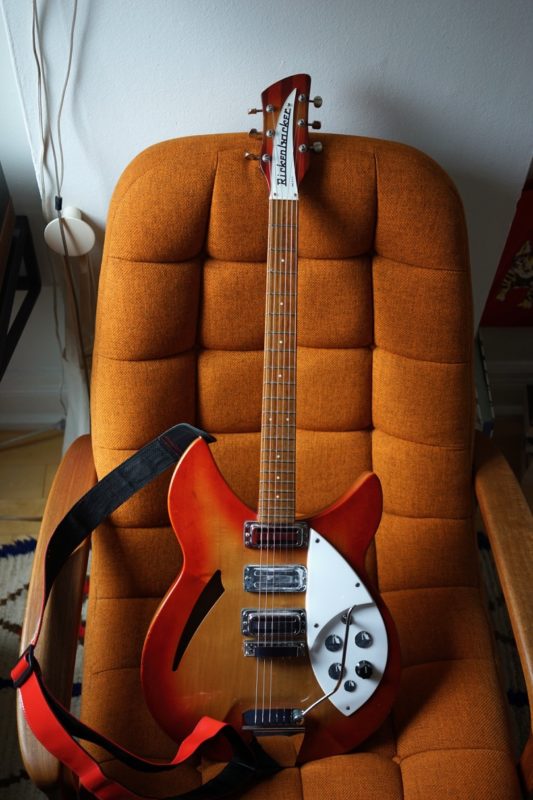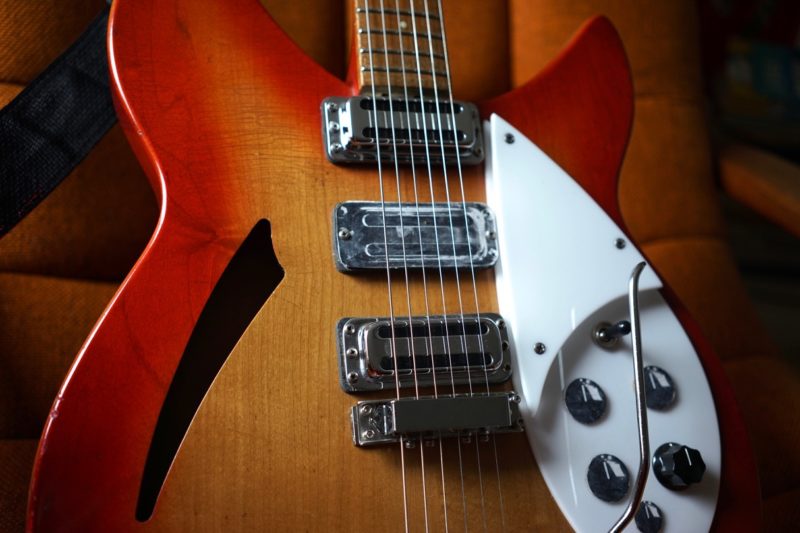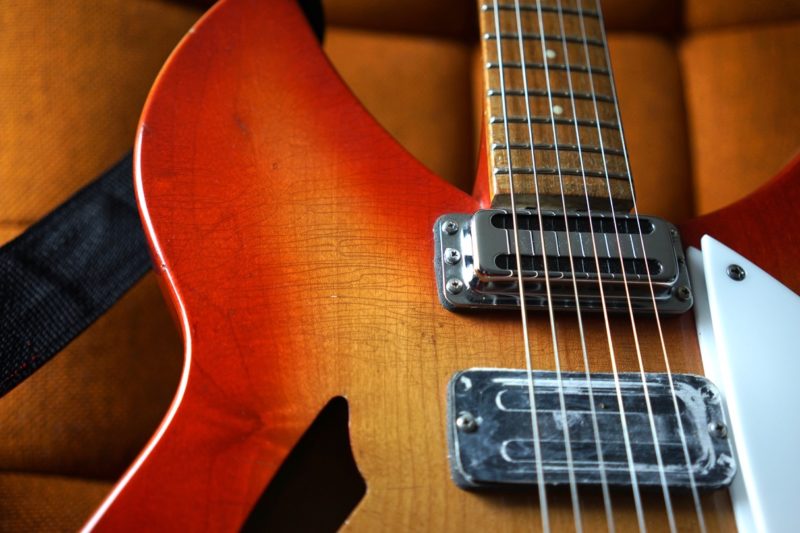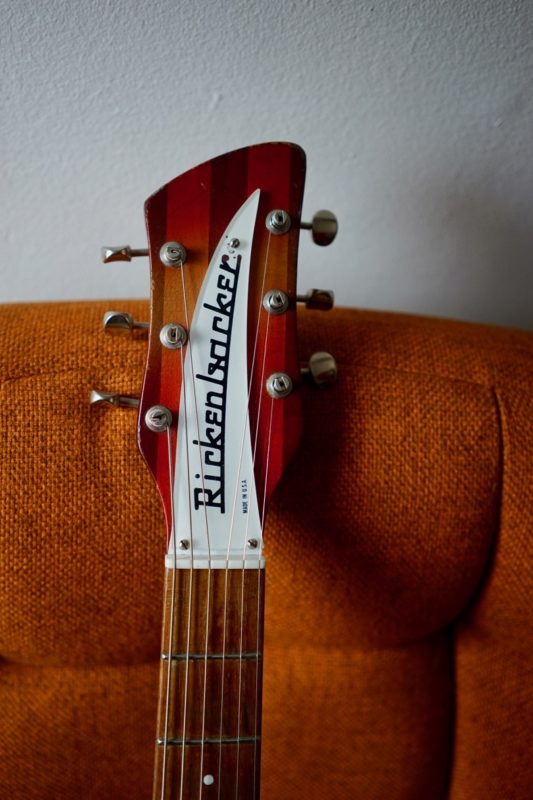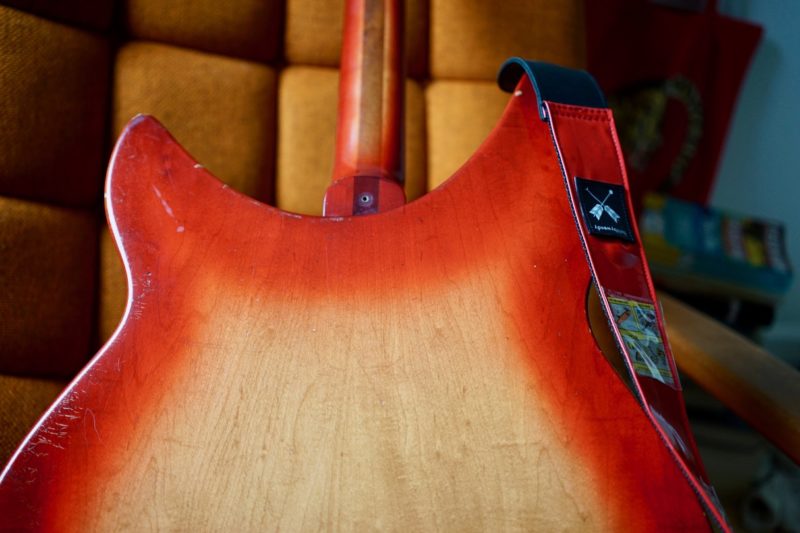 I bought the body/neck on eBay from the notorious "Gibsondependable" about 5 years ago, back when I was a grad student and figured this was my only chance at a real 60s Rick. Of course it was totally stripped, with not so much as a single screw attached. I've cobbled together parts over the years (a 10K toaster bridge pickup, a Creamery repro in the neck, a Mastery bridge) -- and made my own little "dummy" parts to cover the spots where I couldn't afford or didn't want correct parts. (Yep, that's a cardboard "pickup" in the middle, and all but one knob is fake.) The TRC doesn't quite fit (I got it on eBay -- maybe from a bass?), but I stuck a piece of white paper underneath to cover my shame. This one has the beautiful original finish, though, and an incredibly thin neck. I've got a lot of guitars, but this is definitely my favourite 6-string.