I've posted a bit about my cats, the birds are feeling left out.

This is Harley. He's a Senegal Parrot. He's very curious as to what goes on here. Harley has been a good friend of mine for about 17 and a half years. I have him since he's 6 weeks old.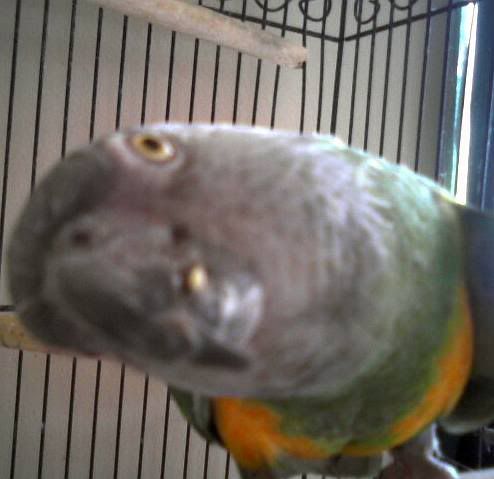 He doesn't talk well,he does try, but he can imitate any sound in the house including; opening a soda bottle, beeps from the microwave, light switch clicks. He has hundreds of them and does them with perfect timing. He also does human whistles, coughs, sneezes and laughs. He yells shut up at Pirate, but it comes out as SSSSSHUP! He dances, loves to get his head scratched and he is a member of BWA (Birdies With Attitude).
Tried to get him in mid dance here: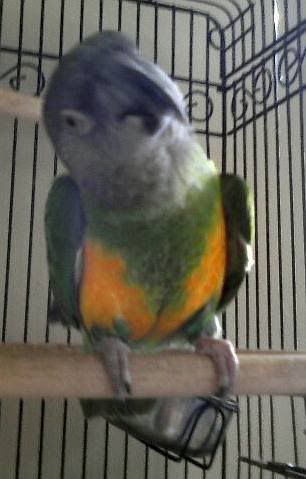 This is Kraemer, a Green Cheek Conure (Conures are a group of long tailed parrots) who has been a good friend of almost 12 years. Her birthday (hatchday) is next week. We have her since she's 4 months old. She tries to say many things, but we can only make out her saying, "What's up?" She's gotten a bit shy since she got very sick and we almost lost her a few years ago. She comes around with a bit of encouragement, especially if you have a treat for her. She was originally named Kramer after the character on the Seinfeld series due to her comical and entertaining moves. We added the extra "e" in her name when we found out he was a she.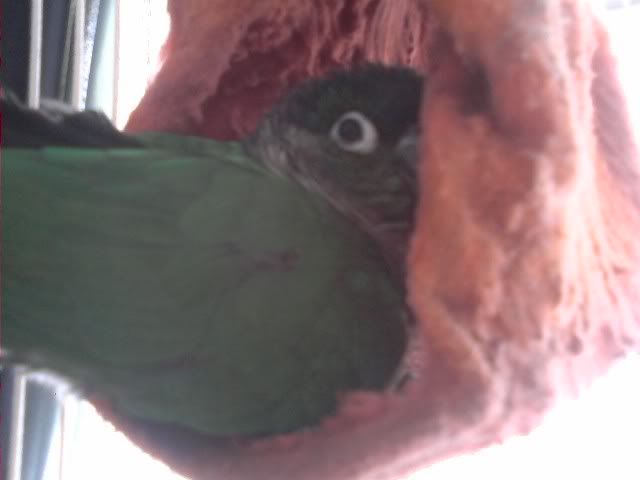 You may have seen Pirate, a Blue-Fronted Amazon Parrot before. My trusty and good friend for almost 28 years. I have him since he's 10 weeks old. He talks, he THINKS he can sing and his imitation of human belly laugh is very contagious. He always has a happy demeanor.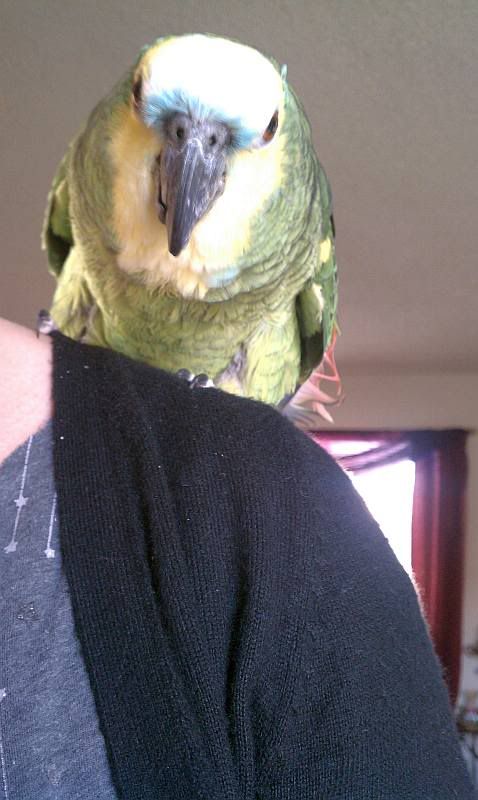 Pirate:
"I talk! Can you fly?"