It sounds really nice!
Thanks, Julio!

A Rickenbacker sight,
in this pic
from the recording studio for future new release of next Jose Ignacio Lapido album: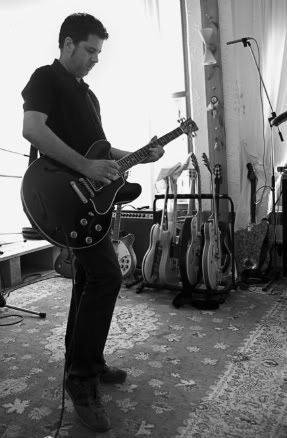 Probably the owner of that 360 near the Fender Silverface amp is Victor Sánchez, his band's solo guitarist.
But anyway, it looks safe to suppose there will be some Rickenbacker sounds in his new record.
For those who doesn't know anything yet about Lapido, he's probably one of the the best rock songs composer here. He was formerly guitar and composer with the band 091, from Granada. He has now a strong solo career since the end of the 90's.
more here:
http://www.myspace.com/lapido
Junior Member
Posts: 182
Joined: Fri Feb 25, 2011 5:37 am
RIC
Posts: 477
Joined: Sat Dec 08, 2007 7:00 pm
Junior Member
Posts: 182
Joined: Fri Feb 25, 2011 5:37 am
Si aquí en España han tocado con Enrique Bunburi de Héroes del Silencio, el bajista de Héroes, Joaquín Cardiel también tiene un bajo Rickenbacker
Hi, this is my first message, I´m from Spain. In my opinion, the best spanish band that one of the guitar player uses a Rickenbacker is LOS SECRETOS. The guitar player and singer is: ALVARO URQUIJO
http://www.youtube.com/watch?v=bREiZF9pd6k
http://www.youtube.com/watch?v=xa1VyYr3Hl4
http://www.youtube.com/watch?v=XxUv5Nf1OBE